SPEAKER  •  INSPIRATIONAL PERFORMER  •  CONSULTANT  •  AUTHOR
Tami Briggs, a Certified Harp Practitioner, is President of Musical Reflections, Inc., whose mission is to provide products and services to enhance and support the healing journey.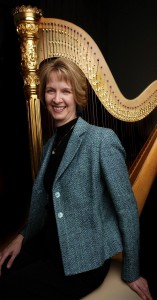 Her Expertise:
After experiencing the healing power of music at the hospital and hospice bedside, Tami created a series of educational programs about using therapeutic music as a healing modality.
As a health educator and speaker, she uses an experiential approach by weaving together powerful stories and practical tips with live musical examples (bringing her lap or folk harp to each presentation).
Her Reach:
Tami's national audiences range from 25-1300+ and include:
1) Health care professionals (nurses and doctors, social workers, chaplains and pastoral care, bereavement and grief/loss counselors, etc.)
2) Health-conscious community (churches, women's groups, support groups, survivor's groups, etc.)

She has reached a large cross-section of health care areas/issues. A partial list includes:
Alzheimer's
Cancer care and cancer survivorship
Cardiology
Geriatrics
Grief and loss (general)
Healing touch
Home health care
Hospice

Intensive care (adults)
Neonatal intensive care
Nephrology
Neurology and brain trauma
Nursing home directors
Pediatrics
Perinatal bereavement
Urology

Media Highlights:
Tami's work has been featured in numerous national publications. A partial list is:
MSNBC.com
Rochester (Minn.) Post-Bulletin
Star Tribune (Minneapolis)
The Indianapolis Star
The Times Picayune (New Orleans)
Nursing/health care publications include:
Topics/Ideas for Media Coverage:
Contact Tami Briggs for her unique perspective on the following topics:

Creative ideas on using music to transform our national health care system
Harp therapy
Healing power of music
Music and well-being
Sound therapy
Using music for hospice
Using music in the medical environment
Requesting an Interview:
For inquiries pertaining to public relations, please contact Tami's office at 952-829-1919 or click here.