TAMI BRIGGS' SECOND NEW BOOK PUBLISHED
Women as Healers: Voices of Vibrancy
EDEN PRAIRIE, MN – Women as Healers: Voices of Vibrancy, a new book by Tami Briggs, has been released by Musical Reflections Press.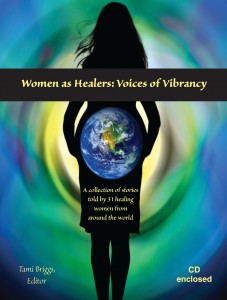 From Nebraska to the Netherlands, India to Iran, and Serbia to South Carolina (and many other U.S. states), the 31 women featured in Tami Briggs' newest bookare all gifted healers. They are authors, artists, consultants, nurses, educators, leaders, and therapists – creators all. As they share their stories, they give us many insights on how to help heal the world.
Author Tami Briggs comments, "These women are from all walks of life, doing extraordinary things to help make the world a better place."
As they share their stories of empowerment, wisdom and life learning, Women as Healers is a "must read" if you are interested in the power and resiliency of the human spirit.
Tami continues, "You will find these 31 vibrant women remarkable – truly inspirational, motivational, and encouraging. Both men and women have much to learn from them! They are pioneers – powerful, spiritual and spirited. They hold nothing back as they leave their beautiful legacies and exemplify this for you. The women in this book have found their voices of vibrancy and they invite you to do the same … it is time!"
Solo harp compositions by Tami Briggs are provided on an enclosed CD so the reader can relax and enjoy peaceful sounds as they read inspiring and uplifting stories.  Tami has also released 13 other CDs for relaxation, comfort, stress reduction, and sleep (available on www.MusicalReflections.com).
Previously, Ms. Briggs wrote Grace Notes: Reflections on the Harp and Healing in 2002. In addition, she presents keynote presentations and break-out workshops at events and national conferences.  Her Women as Healers presentations highlight the key themes from the book's stories, giving you a "behind-the-scenes" look at the 31 profiled women's passion, risk-taking, and hopeful vision for the future.  Audiences range from health care professionals and women's groups, to corporate offices and church organizations.
Women as Healers: Voices of Vibrancy (paperback, 196 pp., ISBN 0-9719822-2-8) retails for $25 (includes a CD) and is available from both www.WomenAsHealers.com and www.MusicalReflections.com.