Grace Notes: Reflections on the Harp and Healing
by Tami Briggs, Therapeutic Harpist
Our incredibly fast-paced culture, the aging population, and massive changes in our health care system have precipitated us to explore different options for well-being, such as music.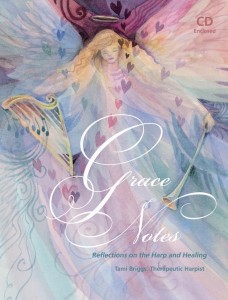 And in recent years, there have been numerous research studies across the United States studying the effects of music on various populations.
The intent of Grace Notes is to share anecdotal stories so the reader understands and recognizes the benefits of therapeutic music, especially the harp. The new book is a "must read" for those interested in the sometimes forgotten, yet effective healing modality of music and how it yields powerful results. Simply put, it is a primer about using music with intention.
Author of Grace Notes, Tami Briggs weaves her personal experiences and clinical training together to:
Define harp therapy.
Explain the harp's unique healing qualities.
Discuss research on the effectiveness of music and its benefits.
Show how music triggers memories and elicits emotional responses.
Suggest musical applications to optimize your well-being.
Describe how the harp can be used to create sacred space, facilitating a healing experience.
Detail how the harp can bring intimacy, depth, and tenderness to the sacred experience of dying.
The book is divided into the following chapters, providing ideas and information: harp therapy, the harp's attributes, the art & science, music & wellness, music & emotions, spirituality, and death & dying.
Specific music is referred to throughout Grace Notes. In the respective stories, there is a brief explanation of why each piece is selected.  The reader/listener learns experientially with the enclosed all-instrumental CD.
Based in Minneapolis, MN, Tami Briggs brings extensive professional knowledge and experience to her subject. A pioneer in the harp therapy field, she is certified by the International Harp Therapy Program. She has played the harp at the bedside of hundreds of hospital and hospice patients.
Testimonials from Grace Notes readers include:
"I have had many people read parts or all of your book and they are all touched. It is so well put together—the chapters, the quotes, the symbolism in the pictures … BRAVO!!"
"I just finished your magnificent book, and wanted to write to say 'Job well done!' I am so impressed how you have vastly spread harp therapy around the country, and your belief and dedication to this important work."
"Thank you for your beautiful book, Grace Notes. Ever since my daughter was born I have read to her every night as she falls asleep. Reading your book out loud to her was a special experience. It is a beautiful book and your stories are so touching. Thank you for sharing your experiences with us. What a gift! The enclosed CD is amazing, too."
Grace Notes: Reflections on the Harp and Healing (paperback, 100 pp., ISBN 0-9719822-0-1) retails for $25 (includes a CD) and is available from Musical Reflections, Inc. (www.MusicalReflections.com).