TAMI BRIGGS' FIRST NEW BOOK PUBLISHED
 Grace Notes: Reflections on the Harp and Healing
EDEN PRAIRIE, MN – Grace Notes: Reflections on the Harp and Healing, a new book by Tami Briggs, has been released by Musical Reflections Press.
This new book is based on Briggs' most profound and deeply spiritual experiences playing the harp at the hospital and hospice bedside.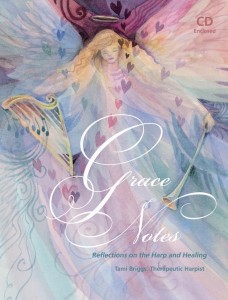 Having facilitated and witnessed hundreds of harp therapy "treatments," Tami's anecdotal stories illustrate many dramatic accounts of using harp music as a complementary care modality.
Tami Briggs, president of Minneapolis-based Musical Reflections, explains, "As the population ages and health care goes through massive changes, therapeutic music can not only change the medical environment, but it can help us experience illness and death with more grace and ease."
The book poignantly tells of the harp's healing properties. Briggs continues, "My goal with Grace Notes is to give the reader an inspirational journey into the world of comfort care….To illustrate music's powerful role in the healing process."
An enclosed, all-instrumental CD highlights the music that is referred to throughout Grace Notes. Tami has released 13 other CDs for relaxation, comfort, stress reduction, and sleep (available on www.MusicalReflections.com).
In addition to her writing and music production, she is a nationally sought-after health educator and speaker about using music in our everyday lives and as a healing modality.  She presents keynote presentations and break-out workshops at events and national conferences.  Audiences include health care professionals, women's groups, corporate offices and church organizations.
Grace Notes: Reflections on the Harp and Healing (paperback, 100 pp., ISBN 0-9719822-0-1) retails for $25 (includes a CD) and is available from Musical Reflections, Inc. (www.MusicalReflections.com).