ANGELIC VIBRATIONS OF LOVE AND LIGHT ♦ MUSIC FOR PEACE AND CALM (AND SLEEP, TOO!)
(MP3 Player) 
You'll love taking this MP3 player wherever you go! And it's pre-loaded with four hours of instrumental music by Tami Briggs, therapeutic harpist.
ANGELIC VIBRATIONS OF LOVE AND LIGHT – $19.95

The MP3 Player features:

Outstanding sound quality
Compact design – the size of a credit card!
Easy to use
Portable.

Included with the MP3 Player:

Ear buds
Simple instructions
A charger
A convenient storage box.

Front View
Back View
No cassettes, CDs, downloads or internet connection needed … just press "On" and enjoy!
Testimonials:
"I listen to the new MP3 player with calming music and it takes me away from all of my stress. It is dainty and handy … thank you very much for this gift of music!"
"I am using my MP3 player every night to help me relax and prepare to sleep."
For Wholesale Pricing:
E-mail Tami with your order. (Ordering on the website automatically calculates the full retail price.)
| | |
| --- | --- |
| Quantity | Price |
| 1-25 | $19.95 |
| 26-50 | $17.50 |
| 51-100 | $15.00 |
| 101-250 | $13.50 |
| 251+ | |
---
AMAZING MINI MUSIC MACHINE ♦ SOUNDS OF COMFORT
(affectionately called the AMM Machine!)
Check out this mini-speaker – it fits in the palm of your hand!  And it comes with a flash drive that is pre-loaded with 5 hours of Tami Briggs' therapeutic music. Enjoy!
AMAZING MINI MUSIC MACHINE – $100.00

The AMM Machine features:
Outstanding sound quality.
Compact design (3″ x 2″ x 2″).
Lightweight, easily portable and ideal for moving from one location to another.
Re-chargeable with a long-lasting lithium battery; plays without being plugged in to electricity.
Capability to use a flash drive.
It comes with:
Battery charger.
iPod cord (the AMM Machine can be used as a speaker for your iPod, iPad or iPhone).
Instructions for ease of use.
All Instrumental Music Flash Drive: Five hours of Tami Briggs' beautiful therapeutic music on a two gig (2G) flash drive (with free space to add your own favorite songs).
Testimonials for the Amazing Mini Music Machine: "Tami, I love the little boom box with your heavenly harp music. I am not good with mechanics and downloading, so this is perfect for me. It is simple to use. I took it right out of the box and in a few moments, the music was playing. My room was filled with peace and tranquility. Thank you!"
~Annette Livingston of www.livingwellnesstoday.com
"I work for a large short-term acute hospital and have the honor of visiting patients to offer Healing Touch or a simple hand and foot massage. Our hospital has been using Tami Briggs' music for many years. Recently, I dropped one of our original music players (the AMMM machine). Tami was so wonderful to work with and sent us a new music player very quickly! I couldn't believe how soon it was on my desk after I spoke with her. The new mini music player is absolutely wonderful! It's small, very easy to use and the sound quality is marvelous. This special touch of Tami's music in the room during healing sessions makes the hospital a healing space for our patients. It's the little things (like this mini music player) that make the biggest difference!"
~Stacy Miorana, RN, HNB-BC
"I received my AMMM today, and it is so neat! Thanks."
~Parish Nurse in Illinois
"My newest granddaughter, Alison Faith, was born with Down Syndrome and a very serious heart defect. She had major open heart surgery at 10 weeks of age. We experienced the incredible power of setting intention and the healing qualities of harp music during her healing journey. She had the wonderful AMMM playing Tami's music at her side nearly continuously in preparation for this huge event.
From the moment Alison arrived in the post-surgical ICU, the AMMM was sitting on the little shelf just above her, playing healing harp music. Staff was curious, then convinced … she flew through all her milestones in only four days without a single complication … really, a miracle!
Alison continues to thrive in her loving environment at home. While she may not remember anything surrounding this event, I am convinced that she will always hear harp music in a special way, with her wonderful new heart. Thank you, Tami."
~Mary Hansen, RN, Faith Community Nurse (and Alison's grateful grandmother)
---
PlayAway® ♦ Healing Harp Music for Relaxation and Sleep
Check out this tiny audio player! It is pre-loaded with five hours of Tami Briggs' relaxing harp music and the last five songs are specifically for sleep.
PlayAway® ♦ Healing Harp Music for Relaxation and Sleep – $40.00

The PlayAway® "Healing Harp Music" is:
Simple to use
Portable and useful in many settings
Durable for repeated use
Lightweight.
It comes with:
Battery (for immediate use)
Ear buds
Handy storage case
Easy-to-use instructions.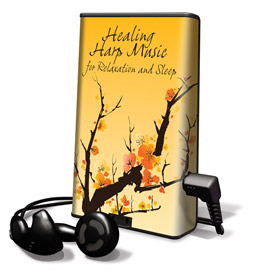 No cassettes, CDs, downloads or internet connection needed … just press "Power" and play!